Skip to Main Content
It looks like you're using Internet Explorer 11 or older. This website works best with modern browsers such as the latest versions of Chrome, Firefox, Safari, and Edge. If you continue with this browser, you may see unexpected results.
New Event : Let's Make Dumplings with Hugh Amano and Sarah Becan
Mon, November 22 @ 7:00 pm - 8:00 pm EST
Explore a comic book cookbook to learn how to make Asian dumplings? Yes! Chef Hugh Amano and illustrator Sarah Becan will talk about the history of these morsels and recipes found in Let's Make Dumplings!
For novice and seasoned cooks, Let's Make Dumplings! gives guidance on folding styles and fillings from across Asia, as well as dumpling lore. This cookbook captures the deep level of connection that dumplings bring to any gathering and shows you how to create them in your own home.
Please register to learn more. Purchase a bookplate signed copy.
Featured Cookbook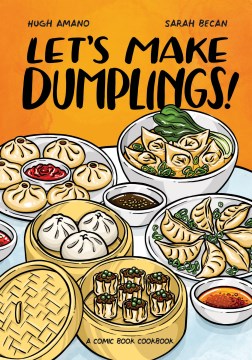 Chef Hugh Amano and comics artist Sarah Becan invite you to explore the big little world of Asian dumplings! Ideal for both newbies and seasoned cooks, this comic book cookbook takes a fun approach to a classic treat that is imbued with beloved history across countless regions. From wontons to potstickers, buuz to momos, Amano's expert guidance paired with Becan's colorful and detailed artwork prove that intricate folding styles and flavorful fillings are achievable in the home kitchen.
Check-out these Websites for Inspiration Online
Meet Our Guests: Hugh Amano and Sarah Becan
Hugh Amano's devotion to exploring food and culture has taken him around the world, enriching his experience as a chef and writer. A graduate of The University of Colorado and New England Culinary Institute, he lives in Chicago, where the roster of dough-encased foods runs deep. He co-authored Let's Make Ramen! (2019) and The Adventures of Fat Rice (2016), and he always puts out a big batch of gyoza for his annual New Year's Eve dinner party.
Sarah Becan has been drawing comics since she was very small. Her food-based autobiographical webcomic "I Think You're Sauceome" sparked a love of food and culinary illustration, and her work has since appeared in various publications, including Saveur and Eater.com. Her first graphic novel, The Complete Ouija Interviews, was a recipient of a Xeric award, and she illustrated Let's Make Ramen! (2019) and The Adventures of Fat Rice (2016). She would be very happy to do nothing but draw food all day.
Books from our Collection