Skip to main content
It looks like you're using Internet Explorer 11 or older. This website works best with modern browsers such as the latest versions of Chrome, Firefox, Safari, and Edge. If you continue with this browser, you may see unexpected results.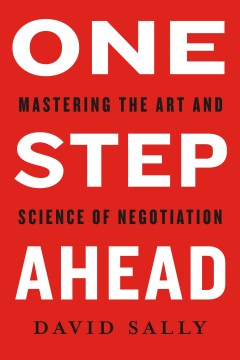 One Step Ahead by David Sally. Introduces a revolutionary way of approaching negotiation. Readers will learn: ̈When and when not to negotiate ̈ WESTPORT LIBRARY VIRTUAL PROGRAM: Authentic NegoSHEation with Woman's Compass Forum Wed. June 23 @11:00 am - 12:30 pm EST. This 90-minute workshop will introduce practical, effective, and confidence-boosting skills and strategies that you can take into any negotiation setting. This is a virtual event. Please register here.
New York Times Business Best Sellers June 2021
WSJ Best Selling Business Books for Week Ending June 5
Check Out These Electronic Resources